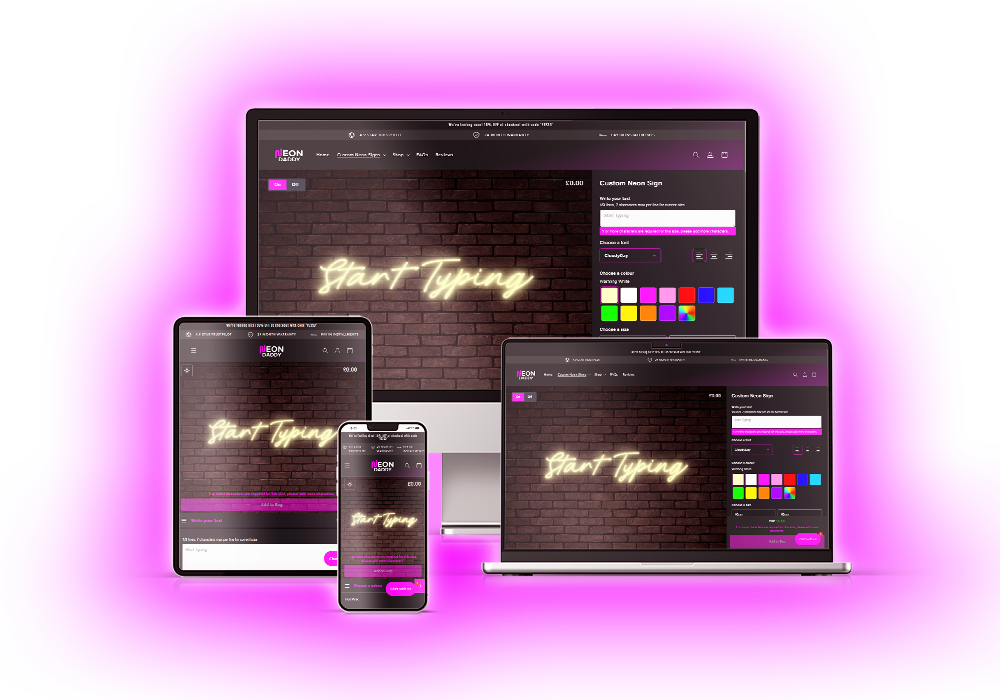 Create Your Own Custom Neon Sign
Create your own custom LED Neon Sign in a matter of minutes! Premium quality at an affordable price from the leading supplier of the America's custom neon signs.
Design Your Own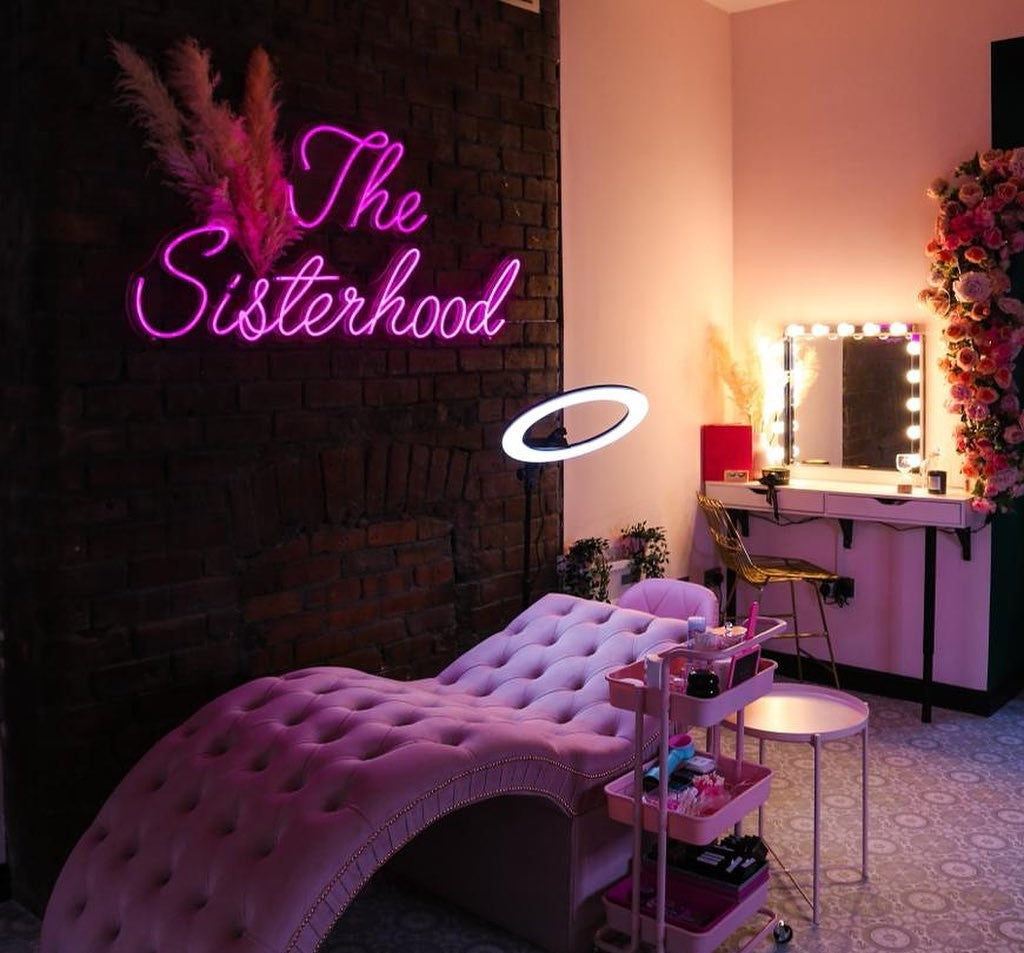 Upload a Custom Design or Logo
Got a logo or an image or logo you'd like us to turn into a personalised neon sign? Upload it here!
Upload Here


FAMILY RUN BUSINESS

As a family business we care about our service. We have a 4.9 Star Trustpilot rating. 100s of happy customers can't be wrong



LOW POWER CONSUMPTION

You'll be pleased to know that one of our medium sized neon sign consumes less than £0.01p of electricity per hour, allowing you to enjoy its radiant glow without worrying about soaring electricity bills.



QUICK AND EASY MOUNTING

All of our signs come with predrilled holes and all fixtures you need to get your sign up. We also include an installation guide with every sign.



COMPLETELY CUSTOM

Let our team of skilled designers assist you in creating a completely custom and bespoke neon sign that perfectly aligns with your vision.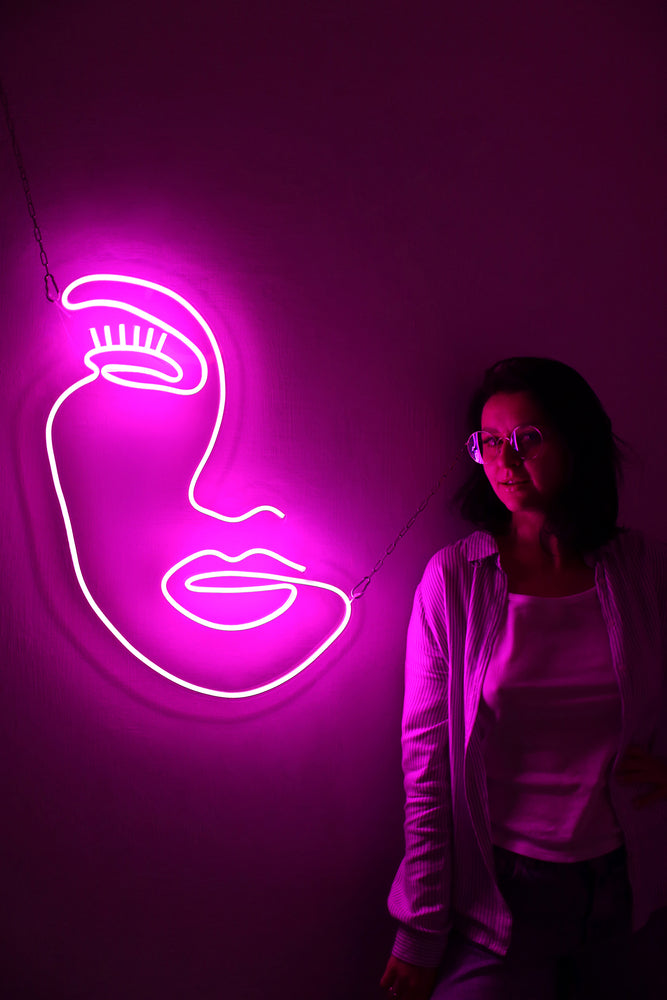 What We Can Do For You..
Need a logo for your business? Some decor to make your living room pop? Or a special something for your wedding day? 
You're in the right place.
It could be a motivational quote. Or lyrics from your favourite song. Whatever you need, we can help.
There's three great options;
1. Create your custom neon sign here.
2. Choose a popular pre-made sign, from one of our categories.
3. Upload your own logo or image
and we'll give you a free quote.
About us
Welcome to Neon Daddy, your premier destination for high-quality custom neon signs in the U.S. We got started because we wanted to give people a better option than what was available on the market – quality neon signs at an affordable price. And we're proud to say that we've been able to do just that, serving customers for over three years now. Plus, we won't be beaten on price, so you can always shop with confidence knowing you're getting the best deal around.
Show More
Business Neon Signs
Businesses of all types are finding that modern neon sign products can be used for more than just neon open signs. Food trucks, pop ups, boutiques, hair salons, and entrepreneurial businesses that cater for the Instagram generation use neon light signs to great effect. Want to get people talking about your business? Add a neon wall decoration as a backdrop for those all important selfies! Savvy start-ups and in the know marketing agencies deploy on-trend neon art and quirky signs to generate free advertising via social media shares.
Show More
Wedding Neon Signs
Neon signs are a popular way to add some extra pizzazz to your wedding day. Whether you have your new surname in lights or choose a loving phrase, these signs are sure to make an impression. They can be used as part of your décor or as a way to direct your guests to the ceremony or reception.
Show More
Be Original
At Neon Daddy, we believe that every customer deserves products that reflect their individual style and personality, so we strive to make sure each custom neon sign looks great in its own unique way. Our experienced technicians are constantly pushing the boundaries of what's possible when it comes to custom neon design; allowing us to produce truly stunning pieces that have never been seen before. Whether you're looking for something bold and vibrant or subtle and sophisticated - Neon Daddy has something for everyone!

Show More